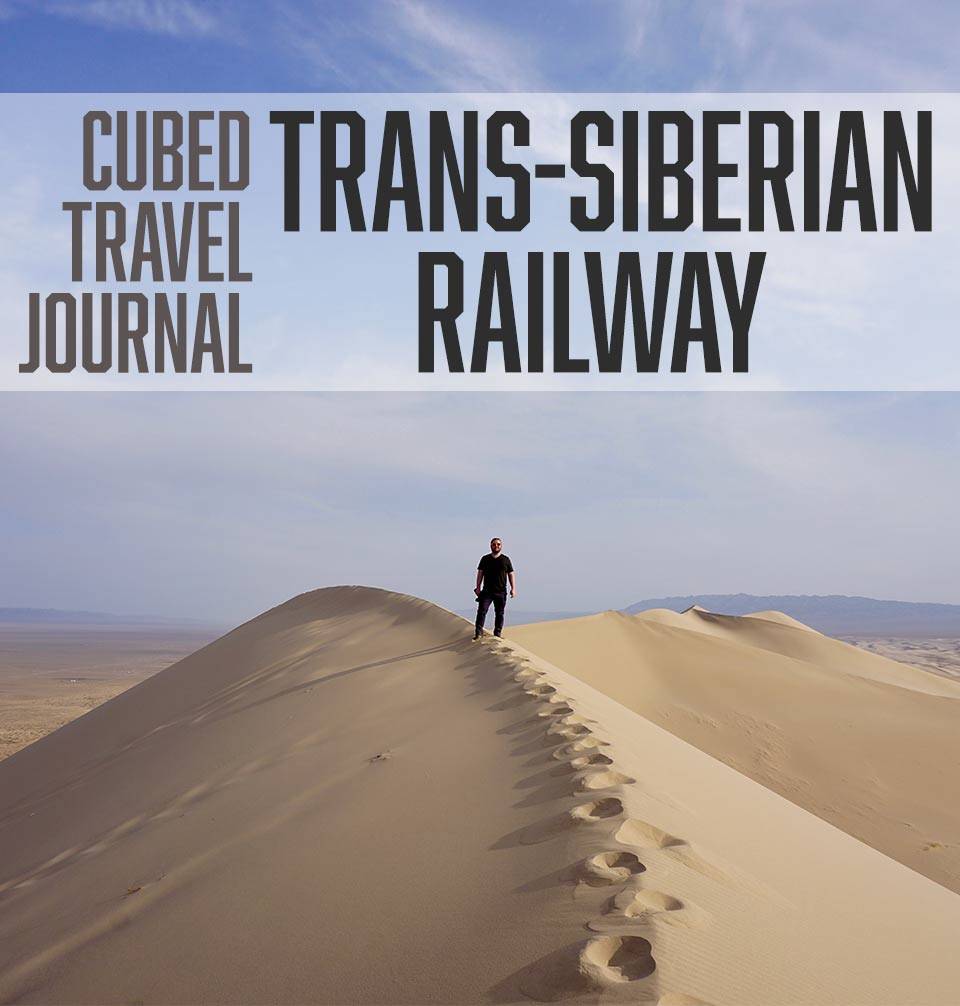 AJ Atop the Khongor Sand Dunes - Gobi Desert, Mongolia
By AJ Bracebridge (BatteredBackpacks.com)
We love train and overland travel. There's just something about being at ground level that gives an awesome perspective. A Trans-Siberian Railway trip has been on our bucket list for many years. But we didn't want to just take a 7-day train ride, look out a window, and call it a day. So we decided to take 3 months to train over 7000 miles across Russia, down into Mongolia, and then around China, making many stops along the way for exploring.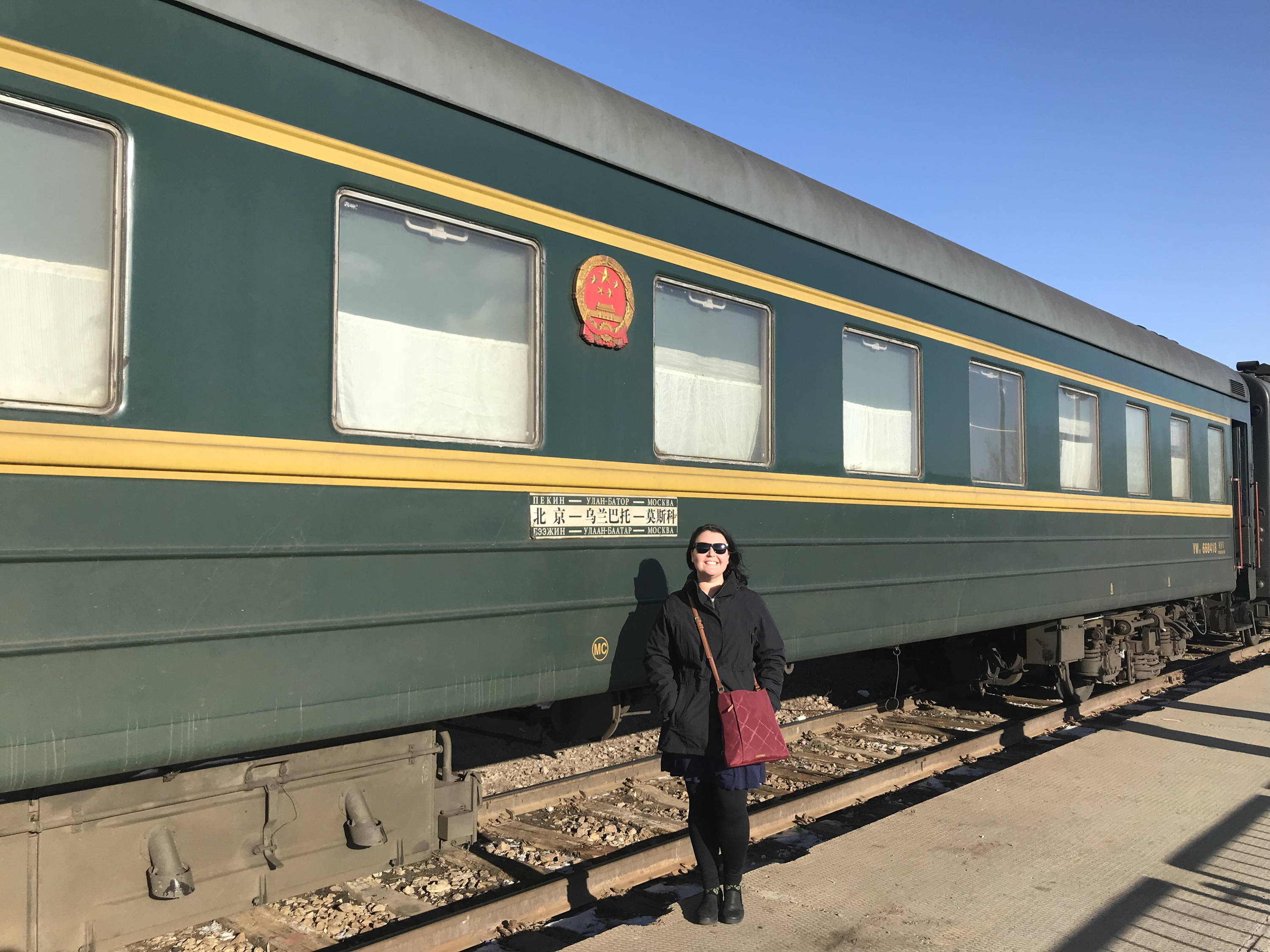 AJ's Wife, Thalita, Posing In Front Of A Trans-Siberian Railway Car - Ulaanbaatar, Mongolia
We are carry-on only travelers most of the time, and this trip was no different. I brought only my 35 liter pack for the entire trip. I knew I'd be needing some cold weather gear. But with packing space being a major concern, I reluctantly decided to leave behind my down jacket in favor of a heavyweight merino wool base layer and my Cubed Travel Jacket. Even with temps dipping into the teens (F), rain, snow, and wind, I stayed surprisingly warm while hiking or exploring new cities.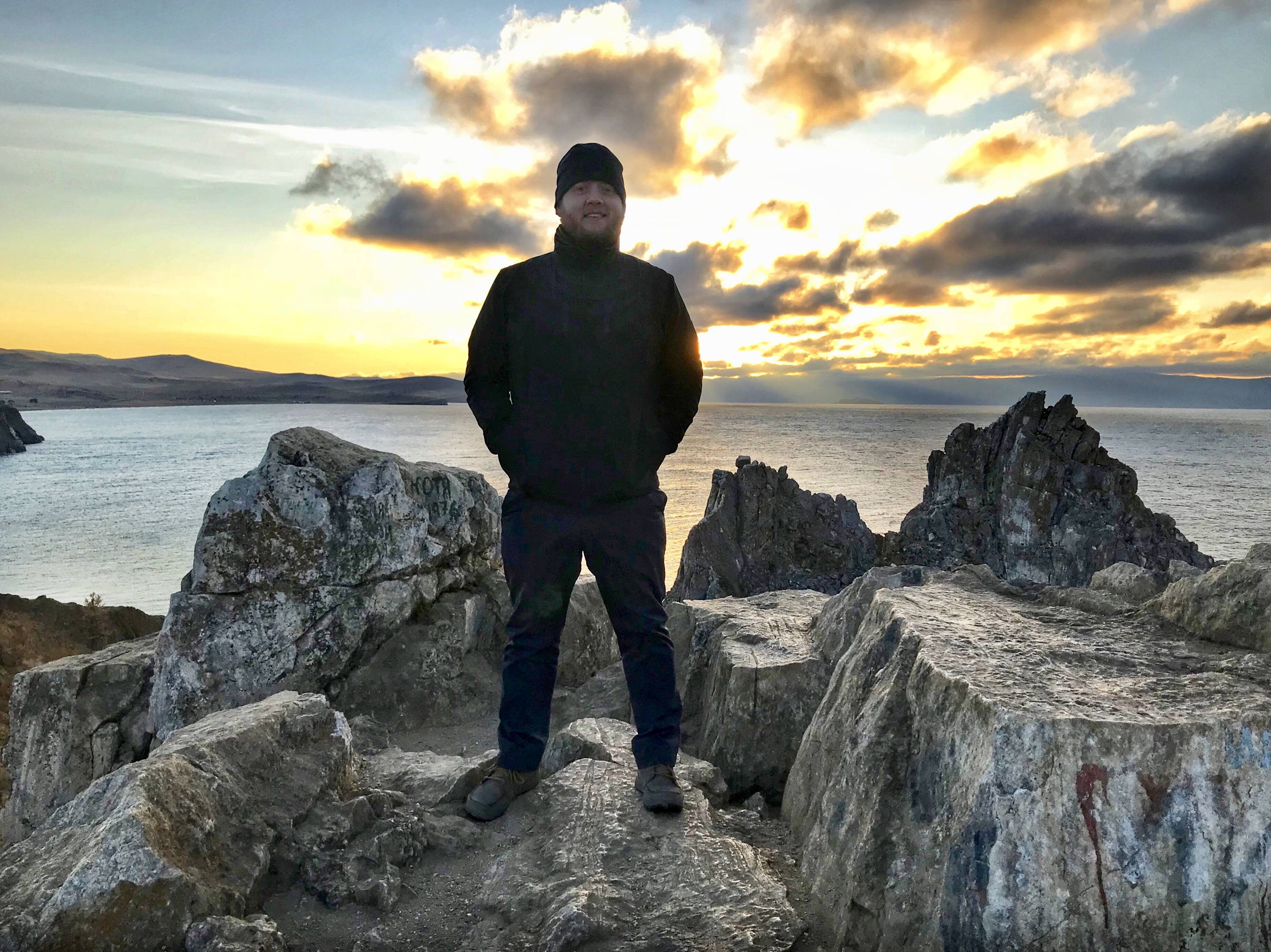 I started the trip on my own in St. Petersburg, which is an amazing city, filled with history and dazzling architecture. I moved quickly onto Moscow and, although rainy and cold, thoroughly enjoyed wandering the streets of Russia's capital city. A 49-hour train ride eastward had me in Novosibirsk, Russia's 3rd largest city and the unofficial capital of Siberia.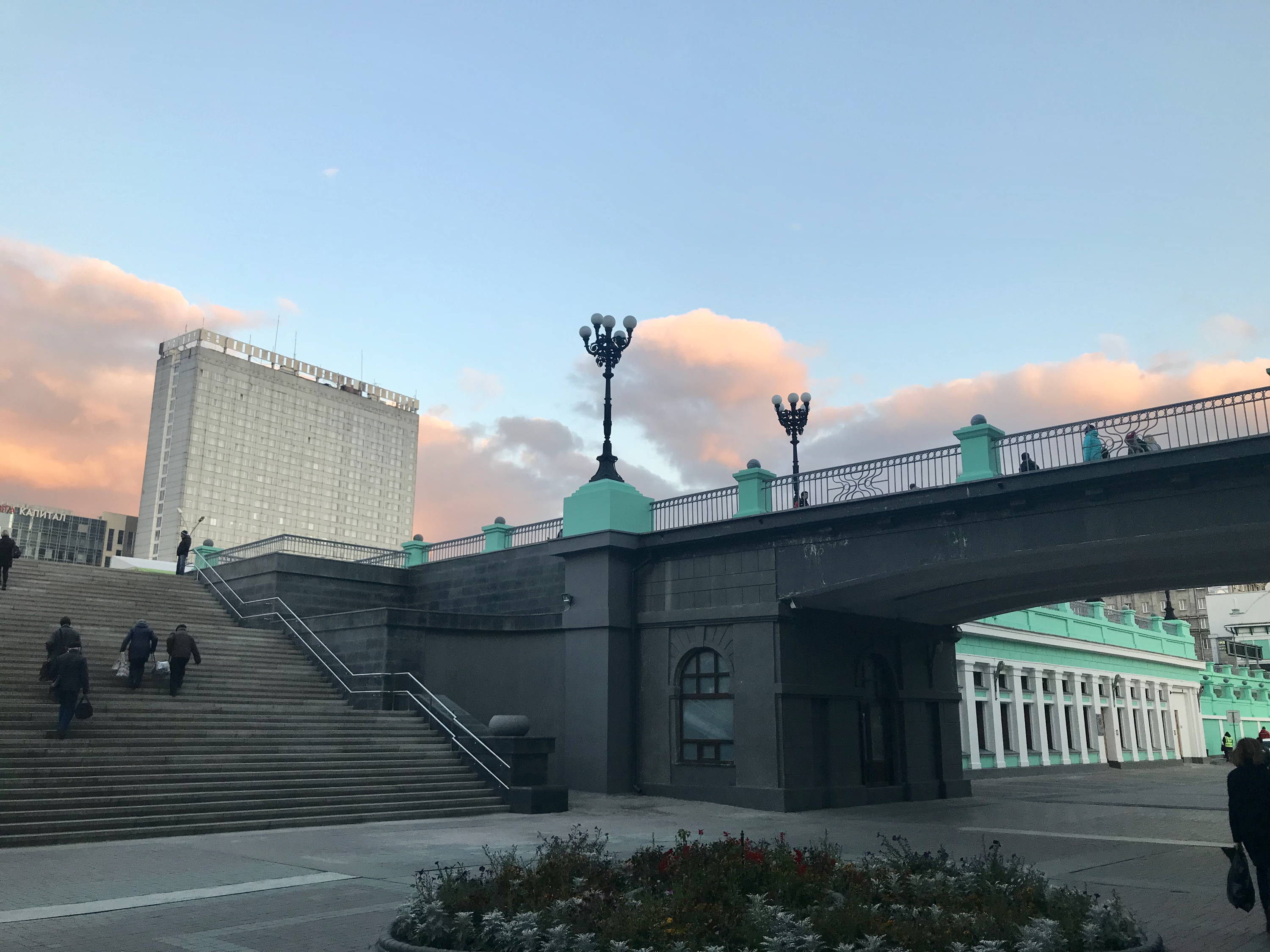 Area Around Novosibirsk's Railway Station
After a couple weeks in Russia's big cities, I was ready for somewhere rural. Another long train ride, a minibus, and a ferry got me out onto Olkhon Island in the middle of Lake Baikal, the world's largest freshwater lake. The people of this region have a spiritual relationship with Olkhon Island, and you'll find many Shaman prayer poles as well as the picturesque and sacred Shaman Rock. I arrived in the low season, so I was able to take many solo hikes around the island, and just relax in relative solitude.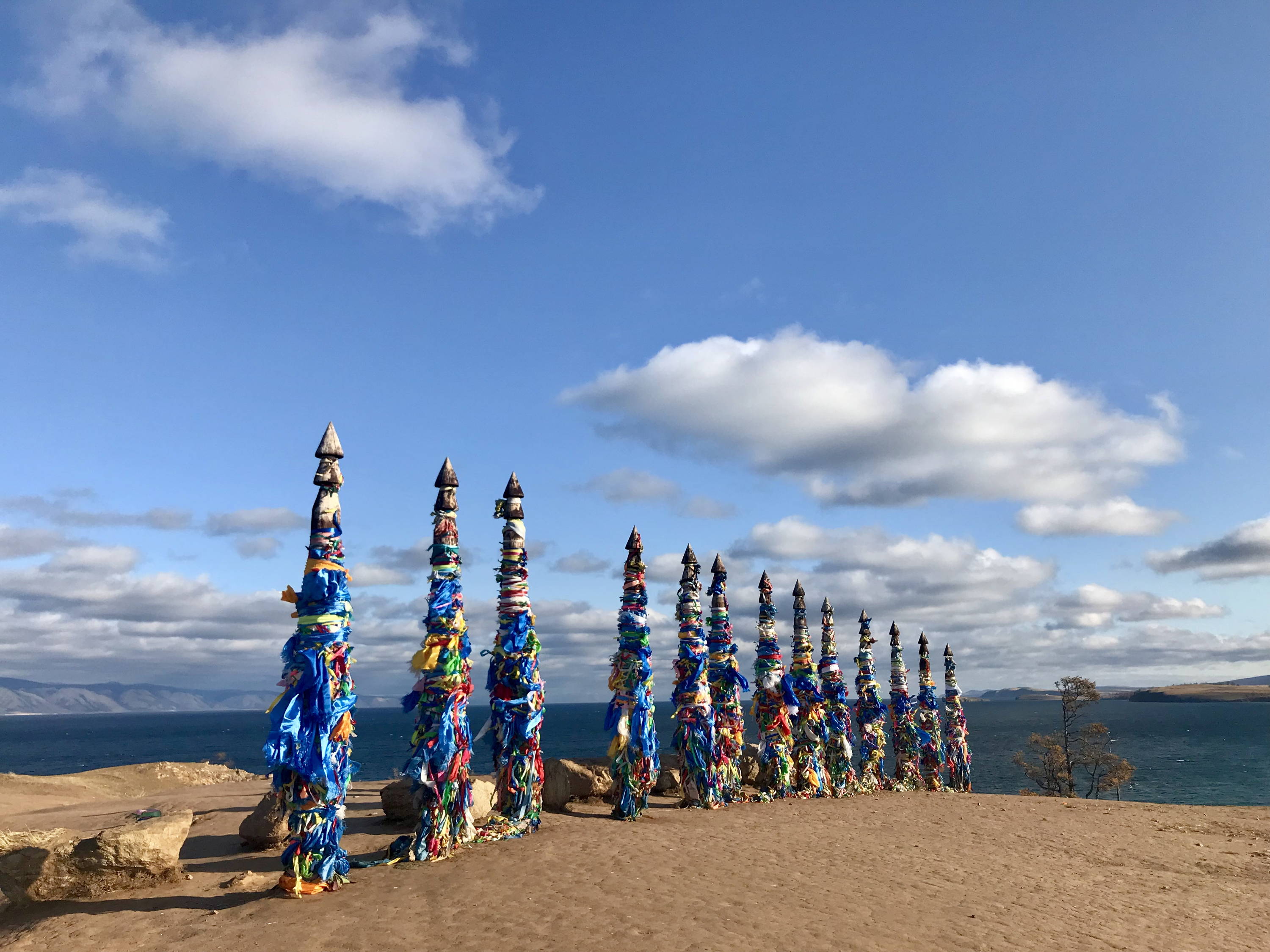 Shaman Prayer Poles on Olkhon Island, Lake Baikal
I had a quick few stops in the Siberian cities Irkutsk and Ulan-Ude, and then turned south and into the Land of Khans….Mongolia. I was excited for a an amazing new country to explore, and because my wife came to meet me in Ulaanbaatar and finish the trip together.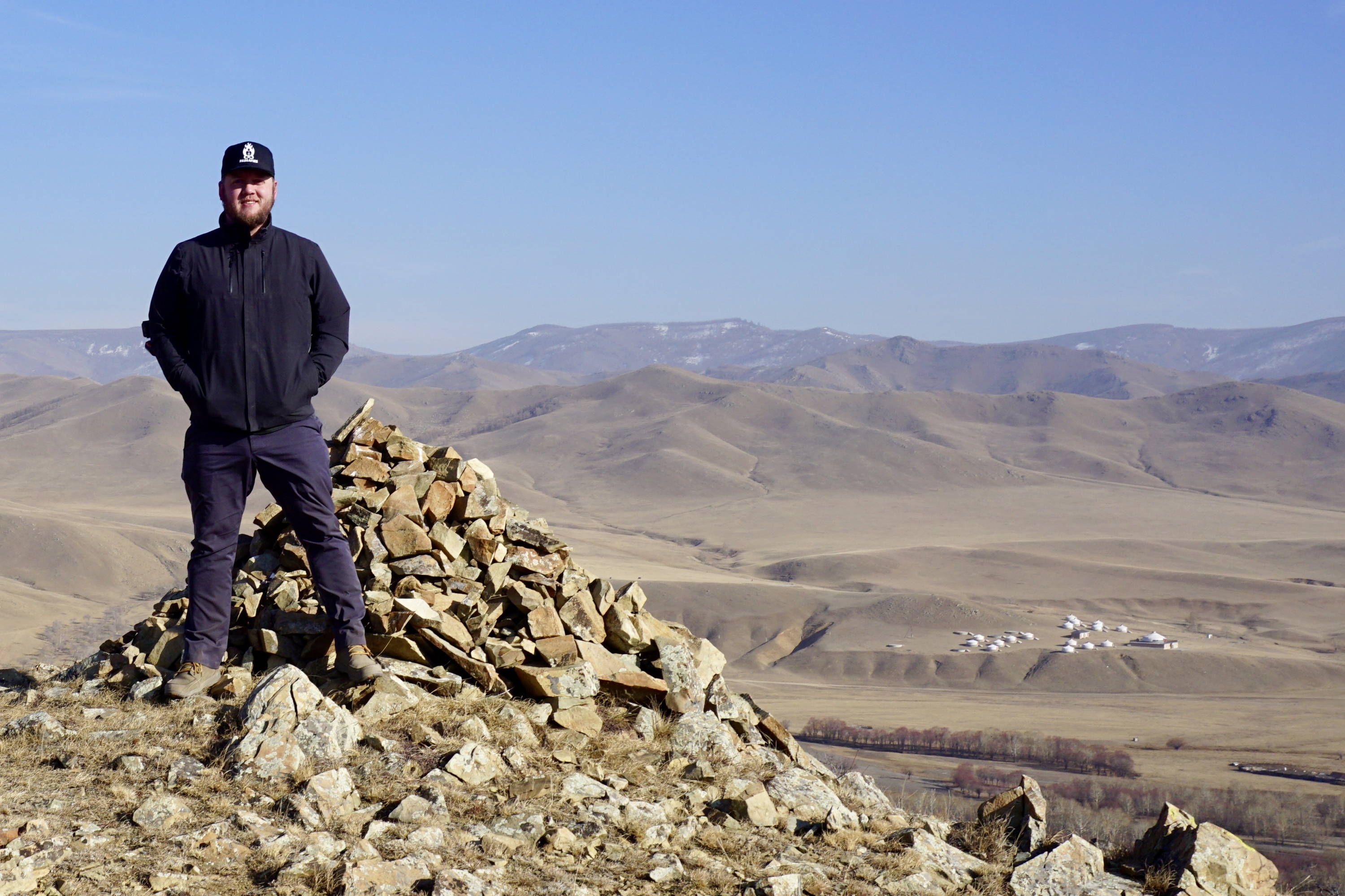 We spent our first few days in a Ger camp in the mountains east of the capital to hike and let my wife get used to the cold. Now ready to brave the cold, we boarded an old UAZ-452 (a gnarly Soviet 4WD van), and headed south on a 7 day tour through the Gobi Desert. Everyday we'd drive somewhere new and see awesome places like the Khongor Sand Dunes or the Flaming Cliffs. Every night we spent in a ger at a different family's home along the way. We also visited the ruins of several monasteries and learned some important history.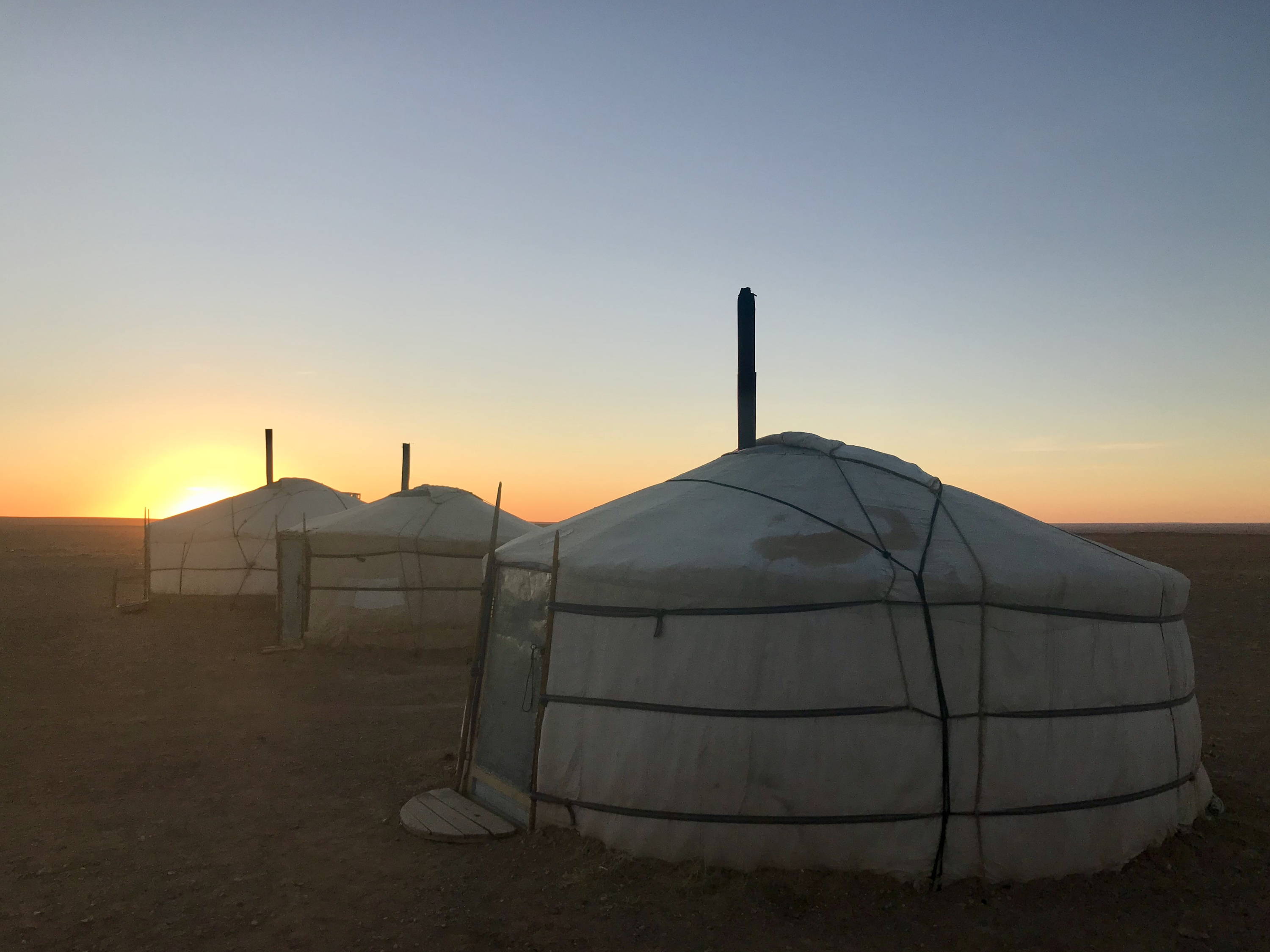 Sunset Over AJ & Thalita's Ger, Gobi Desert, Mongolia
We were in love with Mongolia and were not ready to leave, but we had plans with a friend in Beijing, so onward we went. Going from Mongolia, the least densely populated country on earth with only 3 million people, to Beijing, a city of 21 million, is a shock to the senses to say the least. But we had a good time, exploring the Forbidden City, meandering through the Summer Palace, and of course hiking on the Great Wall.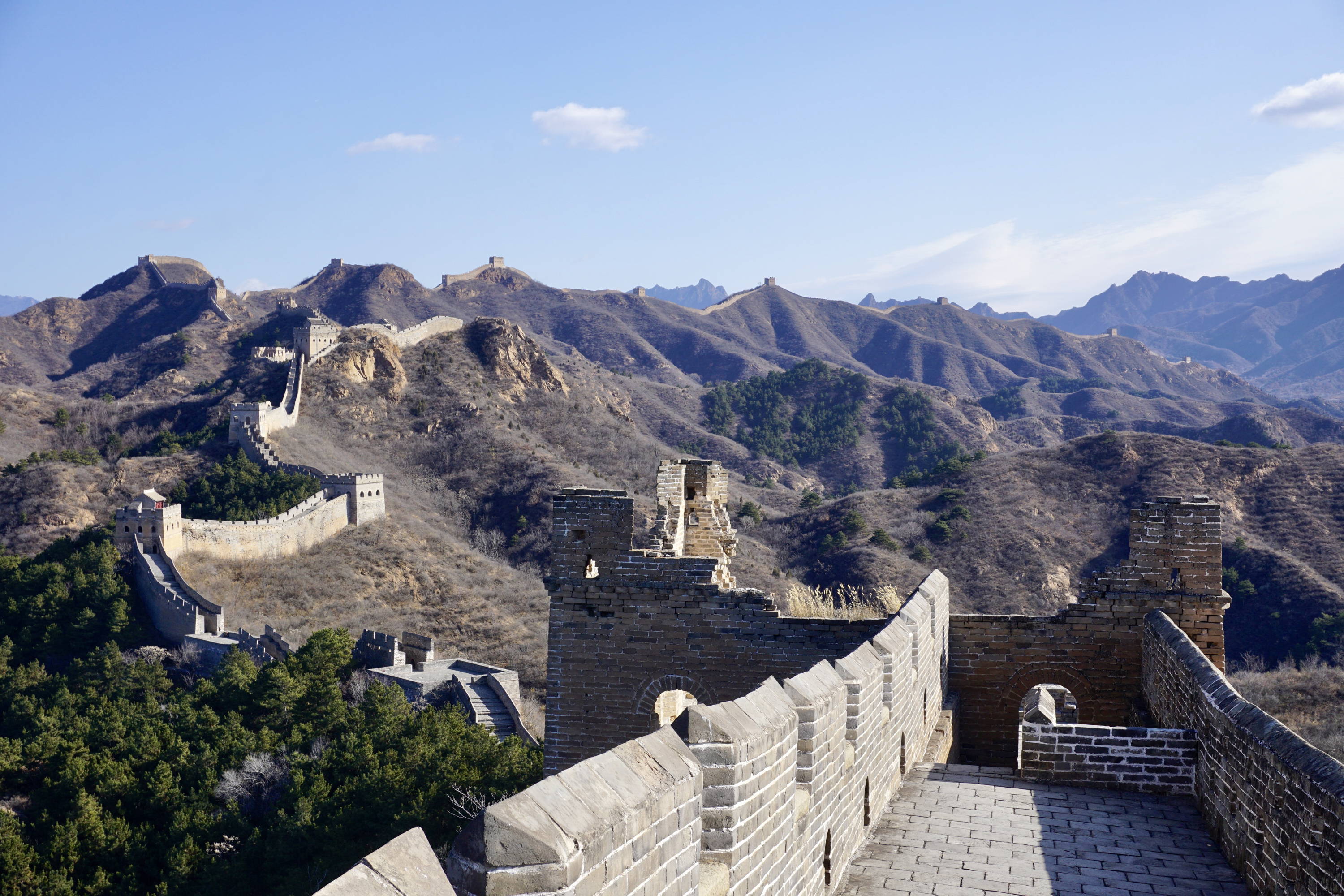 Hiking the Great Wall Near Jinshanling, China
Our next stop was Huashan, an amazing mountain, and home to the internet proclaimed "most dangerous hike in the world." The mountain itself has great paved trails and staircases to hike around to the different peaks, but the most dangerous part is the Plank Walk in the Sky. Pay 30 Yuan to rent a harness, clip into some anchored cables, and start down a ladder to a plank walk along the rock face of a mountain some 5000 feet above the ground. I just had to do it! The adrenaline rush and views below did not disappoint!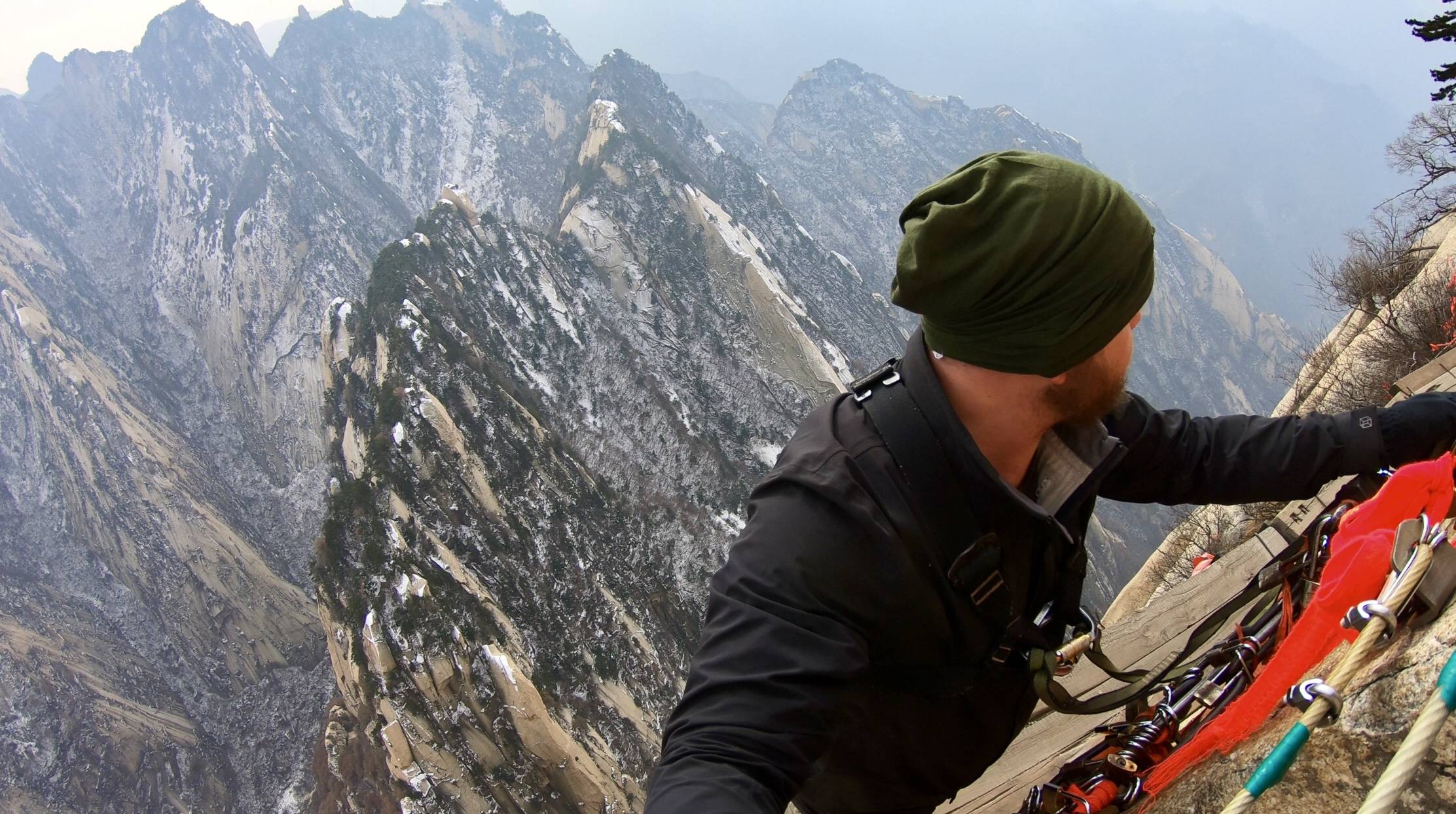 The last part of our epic trip went rather fast. A stop in Xi'an let us explore the Muslim Quarter for some good street food, a night stroll along the historic City Wall, and of course, visit the Terracotta Warriors. We then headed over to Chengdu for a visit to the panda breeding center so we could watch those guys play around. We ended our trip in the massive city of Shanghai. From the skyscrapers of Pudong to the Former French Concession to the wonderful museums, there's so much to see and do. It was a great place to relax and look back on our epic trip on the Trans-Siberian Railway and beyond.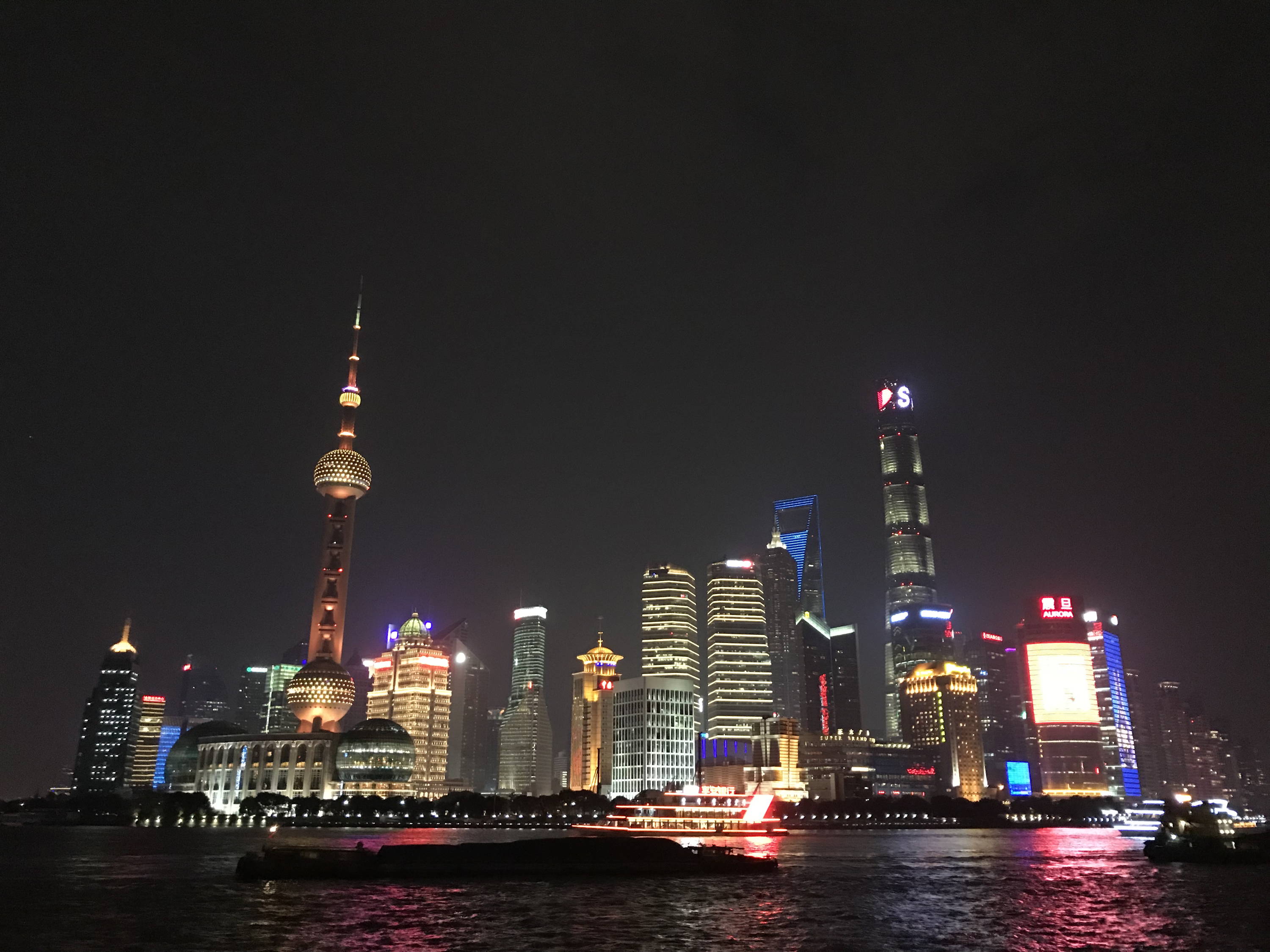 View of the Pudong Skyline while walking the Bund in Shanghai, China
About the author: AJ and Thalita are adventure travelers, avid volunteer workers, and reggae music lovers. They blog about their adventures at BatteredBackpacks.com.